Top Startup Software Companies In Pune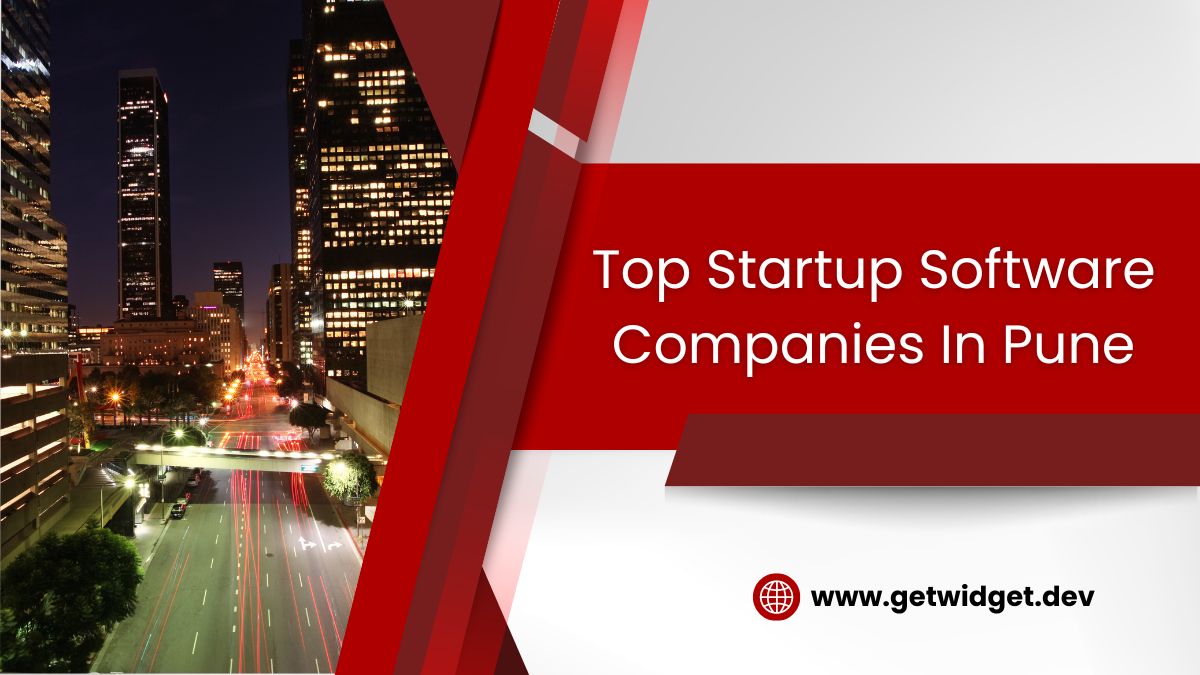 Pune stands as an exceptional city renowned for its cutting-edge technology, delightful climate, and the robust presence of numerous international software enterprises. Recent years have witnessed a surge in the establishment of startup software companies in Pune, with some extending their reach by inaugurating branch offices to tap into the city's promising revenue potential. This phenomenon has catalyzed the growth of multinational corporations within Pune.
The infusion of advanced applications and software development has yielded remarkable dividends in terms of heightened productivity, financial resilience, and augmented engagement with the business landscape. However, amidst the profusion of such Top startup IT companies in Pune, selecting the optimal software development partner in Pune remains a formidable task.
Within Pune's domain, there exist several commendable software development entities that serve as incubators for high-caliber mobile applications. These companies proffer holistic, tailored solutions for digital enterprises and startups, galvanizing their growth trajectory. To streamline this selection process, we present a curated roster of startup IT companies in Pune for freshers, distinguished by their adept utilization of cutting-edge technology solutions.
Each enlisted Pune-based enterprise boasts a cadre of proficient professionals, fostering an environment conducive to innovation and excellence. Our comprehensive guide aims to navigate readers through these companies, shedding light on their potent software development offerings. By perusing the compilation below, you gain valuable insights that facilitate the culling of the most dependable and fitting MNC software companies in Pune, aligning seamlessly with your business expansion aspirations.
Aviabird
Aviabird was founded in 2015 in Pune, Maharashtra. Web design & development services of Aviabird are custom-built to fit your business requirements. Aviabird specializes in advanced and game-changing software in Talent services, Health Guidance, Coaching, and Performance Management spaces. Focus is not merely on creating solutions in perfection, time-saving, and treating all clients equally. Aviabird champions software excellence and is passionate about revolutionizing the IT industry.
Founder: Ashish Singh
Year Founded: 2015
Address: 319, Amanora Chambers, Amanora Mall, Hadapsar, Pune, Maharashtra 411013
Website: https://www.aviabird.com
Druva
Druva is a software development company, that was founded in the year 2008 with its base in Pune, India. Druva is a Cloud data platform that offers a complete set of data management solutions and data security for small and large-scale enterprises. It supports services in a public cloud, private cloud, or on-premises. It manages and protects data across all devices with attributes like mobile backup, remote wipe, device encryption, geolocation is managed efficiently promising high security.
Founder: Jaspreet Singh
Year Founded: 2008
Address: Muttha Chambers II, Level VI, Senepati Bapat Marg, Pune
Website: https://www.druva.com
Ecolibrium Energy
Ecolibrium Energy was founded in 2011 with its office in Pune, Maharashtra. Ecolibrium Energy came forth with a digital platform competent in machine learning, SmartSense, offering Energy management, and interpreting complex data via IoT sensors. The derived data analyzed into valuable intelligence aided organizations in optimizing their energy consumption, monitoring assets, and saving revenue. Further, Ecolibrium diversified to create a perfect balance between People, Planet, and Profit.
Founder: Chintan Soni
Year Founded: 2011
Address: Office "D", IndiQube, 8th Floor, Amar Business Zone Ecolibrium Private Limited, Swati Park, Veerbhadra Nagar, Baner, Pune, Maharashtra 411045
Website: https://www.ecolibrium.io
Codewalla
Codewalla was incorporated in 2006 Pune in India. Codewalla is the best software company in Pune for freshers. It specializes in software products, Codewalla aids ambitious entrepreneurs, startups, and established brands, being a cost-effective venture tech partner. Codewalla creates a runway for start-ups by helping them to build, execute, and scale their products, acquiring their whole technological requirements. They even redesign the business structure if required to attain high business growth.
Founder: Rakesh Raju
Year Founded: 2006
Address: 1st floor, B3, CEREBRUM IT PARK, Marigold complex, Kalyani Nagar, Pune, Maharashtra 411014
Website: https://codewalla.com
IoGenies Solutions
IoGenies Solutions was founded in 2020 and is based in Pune, Maharashtra. IoGenies Solutions is listed among the top IT companies in Pune. IoGenies, a product design company, is proficient in IoT products, and end-to-end product design and development with the incorporation of artificial intelligence. Smart cities solutions, Equipment monitoring, Asset tracking, Vehicle logistics, Energy monitoring, and Wearables, IoGenies Solutions takes care of efficiently.
Founder: Suhas Jain
Year Founded: 2020
Address: Suman Sudhan Apartment, 2nd Floor, NDA Pashan Rd, beside Om Hospital Building, Aamchi Colony, Bavdhan, Pune, Maharashtra 411021
Website: https://iogenies.com
Linescripts Softwares
Linescripts Software was incorporated in 2018, headquartered in Pune, Maharashtra. It took off with a concept to automate repetitive tasks helping enterprises to focus more on business flow. Linescripts Softwares offers efficient products and services in domains - Web Development, ERP solutions, Mobile App Development, UI UX design, SEO/Digital Marketing, and ERP Systems. Gradually, it came up with a bouquet of automation tools and separate software to tackle different business tasks.
Founder: Rajnish Mahadeo Nalawade
Year Founded: 2018
Address: Office Number 208, Garden Plaza, Commercial Complex, Five Gardens Rd, Sunshine Villas, Jagtap Dairy, Rahatani, Pune, Pimpri-Chinchwad, Maharashtra 411027
Website: https://www.linescripts.com
Also Read - Top Software Development Company In Lucknow
Source-right
Source-right was incorporated in 2017 with an office in Pune. Source-right is a one-stop solution for product engineering solutions and services. Source-right Solutions offers an array of services - Consulting, Product Engineering Services, Digital Transformation, IT cloud infrastructure, Internet of Things, and Asset Monitoring solutions. Being startup software development companies in Pune, they have expertise in providing business solutions for enterprises with a lower CAPEX and quicker response in the market to attain business goals.
Founder: Anurag Ambedkar and Savita Kumbare
Year Founded: 2017
Address: R/H 02, Shri Venkatesh Shrushti SN 56/1A/2, Wadgaon BK, Pune-411041 Maharashtra, India
Website: https://source-right.com
ScaleReal Technology
ScaleReal Technology was founded in 2019 based in Pune, Maharashtra, ScaleReal Technology service provides an array of services in Web development, Mobile development, UI/UX design, Strategic consulting, Project management, Data solutions, and Security. ScaleReal expertise is in providing new techniques, cutting-edge technologies, and architecture with their team of experts together to build robust business infrastructure with quality assurance, accuracy, and high-end security.
Founder: Ashish Mohite
Year Founded: 2019
Address: MONT VERT PRISTINE, B1 - 504, Aundh Rd, behind St. Thomas Church, Pune, Maharashtra 411020
Website: https://scalereal.com
Ellicium Solutions
Ellicium Solutions was founded in 2013 with its headquarters in Pune, Maharashtra. Ellicum, being one of the best startup software companies in Pune, specializes in Big Data, Analytics, and Artificial Intelligence, providing business solutions in these niches, with an emphasis on resolving unstructured data. They are working on cloud-based solutions based on their expertise in a deep understanding of data extraction, integration, and analysis.
Founder: Kuldeep Deshpande
Year Founded: 2013
Address: 3rd and 4th floor Infotech House, Above Axis Bank, next to PJog Junior College, Mayur Colony, Kothrud, Pune, Maharashtra 411038
Website: https://ellicium.com
IndiaFIRST Robotics
Indiafirst Robotics incorporated in 2009 with its headquarters in Pune, Maharashtra, ranks first in Robotics Education company in India. Being one of the startup companies in Pune, it specializes in robotics automation manufacturing & research and has paved the way for creating Robotics 3D printing, Automation Designing, Customized Robots, Robot Theme Park, and many more.
Founder: Vinay Kunwar
Year Founded: 2009
Address: Plot No. 11, 2nd Floor, Vishwesh, Lane No. 2, Pushpak Park, Aundh, Pune - 411007, Maharashtra, India
Website: https://www.indiafirstrobotics.com
Paexskin Solutions
Paexskin Solutions was founded in 2010 in Pune, Maharashtra. Paexskin Solutions one of the MNC software development companies in Pune endeavors in IT Services, Talent Management Enrichment, Learning and Performance Strategy, Learning Management Systems, Application Development, Learning Management Systems Implementation, and Application Support by building excellent solutions to provide best-rated, skills and innovations, reinforcing the relationship and the core offerings to the industry.
Founder: Mayur Rao
Year Founded: 2010
Address: B405, G O Square, Kaspate Wasti, Wakad, Pimpri-Chinchwad, Pune, Maharashtra 411057
Website: https://paexskin.com
Neurapses Technologies
Neurapses Technologies specializes in Banking, Retail, Financial services, legal, tax and accounting, and Healthcare industries. Neurapses Technologies extends its services to automated document processing, Machine learning solutions, research & analytics, Salesforce services, custom app development, and Sap on the cloud. That's why it comes in tech companies in Pune, Neurapses Technologies was planted in 2016 with headquarters in Pune.
Founder: Ram Kishan Sharma
Year Founded: 2016
Address: Office No 1C, 7th Floor, City Vista -A Block, Downtown Fountain Road, opp. Victorious International School, Kharadi, Pune, Maharashtra 411014
Website: https://neurapses.com
Icertis
Icertis founded in 2009 and based in Pune, India discovered an Artificial intelligence contract management platform. AI platform aids the users in creating, automating, and providing insights into the contract process. it helps in the analysis of contract documentation generating insights to reach final negotiations evaluating all required parameters,
Founder: Samir Bodas
Year Founded: 2009
Address: S.No. 106 A/1, First Floor Muttha Chambers II, Bhamburda, Senapati Bapat Rd, Pune, Maharashtra 411016
Website: https://www.icertis.com
QED42
Being an end-to-end solutions provider, QED42 mainly focuses on delivering ambitious digital experiences to their valuable customers around the world utilizing usable Design as well as cutting-edge technology. Their designed web & mobile experiences are trusted by 150+ global customers. QED42 is one of the tech companies in Pune that specializes in outsourced product engineering services as well as open-source development.
Founder: Dipen Chaudhary
Founded in: 2009
Address: East Court Phoenix Market City, Viman Nagar Rd, Sakore Nagar, Viman Nagar, Pune, Maharashtra 411014
Website: https://www.qed42.com
Haber
Haber came into existence in 2015 with Pune headquarters introducing AI and IoT in industrial applications to build automated industrial platforms. The unstructured data is synchronized into actionable intelligence by understanding the trends and relationships of critical parameters. Haber Solutions has helped industries such as pulp and paper packaging, food, and beverages.
Founder: Vipin Raghavan
Year Founded: 2015
Address: C1001 Amar Business Zone, Veerbhadra Nagar, Baner, Pune, Maharashtra 411045
Mindbowser
Mindbowser is the most trusted digital transformation as well as product engineering organization in Pune. They focus on Clean Code, Design Thinking, DevSecops, and Quality Automation through their cutting-edge solutions in Data Science, Cloud, Mobility, IoT, Blockchain, and Machine Learning.
Their team is proficient in delivering quick as well as quality solutions. With a blend of professionals with a proven track record, their mobile engineers, web designers, software developers, graphic designers, software testers, as well as business analysts, make it possible to offer their valuable clients reasonable, innovative, as well as highly influential solutions.
Founder: Ayush Jain
Year Founded: 2012
Address: Office# 701 & 702, STERLING TOWERS, Pan Card Club Rd, Baner, Pune, Maharashtra 411045
Website: https://www.mindbowser.com/
Cyient
Cyient is a global Engineering & Technology solutions organization, situated in Pune. They collaborate with their valuable customers to design digital enterprises, build intelligent products & platforms, and solve sustainability challenges.
Founder: Krishna Bodanapu
Year Founded: 1991
Address:  79, 1, Mundhwa Rd, Vanshaj Society, Pingale Wasti, Koregaon Park Annexe, Mundhwa, Pune, Maharashtra 411036
Website: http://www.cyient.com
Talentica Way
The "Talentica Way" is an IT startup in Pune. With trained and dedicated teams consisting of the good experience and brightest talent, they balance process & flexibility to match the constantly changing requirements of startups. Their passion for technology & focus on execution enhances your chances of successful results, user acquisition & path to profitability.
Founder: Nitish Simplhi
Year Founded: 2003
Address: S R Iriz, Baner - Pashan Link Rd, Pashan, Pune, Maharashtra 411021
Website: https://www.talentica.com
Thoughtworks
Thoughtworks originated the concept of distributed agile & they know how to harness the strength of global teams to provide s/w excellence at scale. Nowadays, they support their valuable clients in creating their own path to digital fluency as well as building administrative soundness to navigate the future.
Founder: Neville Roy Singham
Year Founded: 1993
Address: 6th Floor, Binarius Building, Deepak Complex, National Games Road Beside Sales Tax Office, Shastrinagar, Yerawada, Pune, Maharashtra 411006
Website: https://www.thoughtworks.com
Conclusion
These are some of the best startup and MNC IT companies in Pune that are doing great to provide software services at an affordable price. Our list is created after proper research so feel free to connect with these companies to get software development services in Pune.
FAQ
How to get startup software companies listed in Pune
To compile a list of startup software companies in Pune, employing these strategies would surely be worth:
Utilize online business directories using relevant keywords.
Explore startup directories such as AngelList & Crunchbase, filtering for startup software companies in Pune for freshers.
Check out local startup hubs & incubators.
How do I find a startup company to join?
To find Top startup software companies in Pune to join, utilizing an online platform such as Angellist & LinkedIn will surely be fruitful. You need to research relevant sectors, attend networking events, seek personal referrals, explore incubator programs, & consider startup job fairs. Consider each company's vision, mission, and culture before making a decision.
Which software companies are in Pune?
Pune hosts a multifarious range of software development companies, such as Aviabird, Ellicium Solutions, Icertis, and Cyient. These startup IT companies in Pune specialize in various domains such as cybersecurity, Information technology services, software development, and more, contributing to Pune's thriving tech landscape.
Is Pune a startup hub?
Yes, after so many startup companies came to Pune, this city has evolved into a burgeoning startup hub in India. With a multifarious range of startups across industries, supportive infrastructure, & renowned educational institutions, Pune fosters innovation as well as entrepreneurship. Co-working spaces, incubators, & networking events contribute to its dynamic ecosystem, making it an appealing destination for startups to thrive.
How much do startups pay to freshers?
Salaries of startup IT companies in Pune for freshers vary widely based on factors such as the startup's industry, funding, location, and job role. Generally, the salaries of startup companies might be competitive or slightly lower compared to well-known MNC software companies in Pune. Startup salaries can range from around 3 - 10 lakhs rupees per annum (or more) depending on the aspects mentioned. It's advisable to research specific startup software companies in Pune for freshers to get a clearer idea of their fresher salary offerings.