Top Software Development Company In Lucknow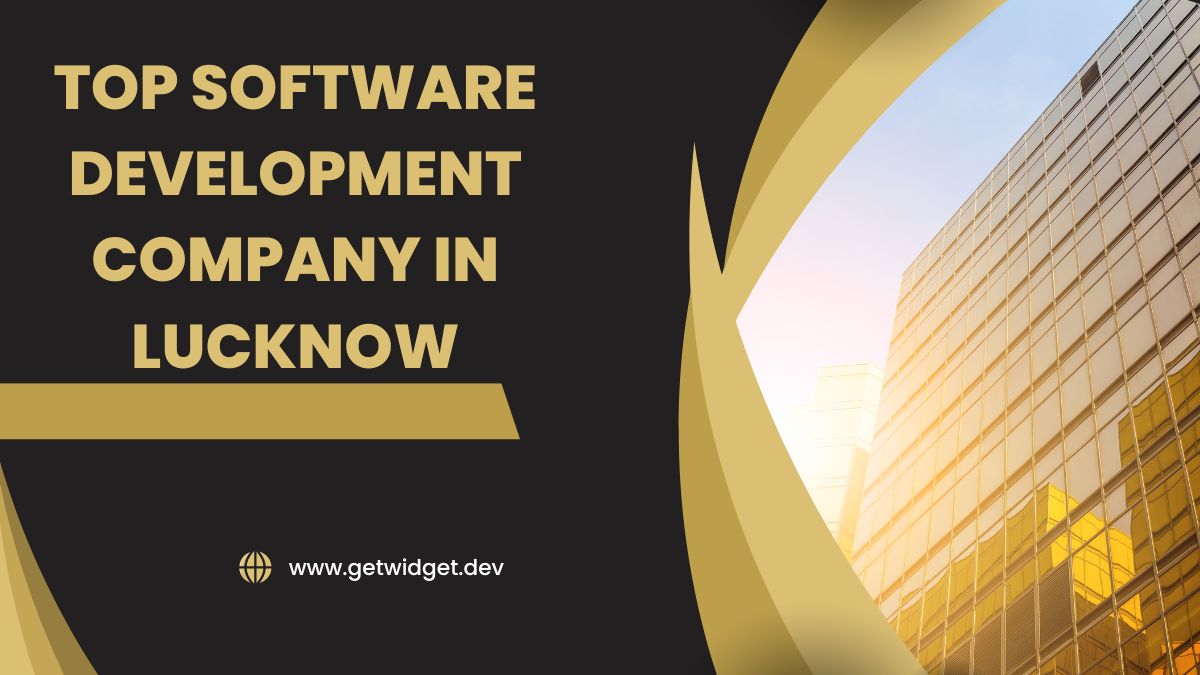 One of the main cities in North-East India, Lucknow is also a rapidly expanding tech hub with a large number of businesses that choose to launch their digital businesses there or relocate in search of better chances, new experiences, and clients.
This list of IT companies in Lucknow is for you if you're looking for the best software development company in Lucknow.
SIGMA SOFTWARE
A Lucknow-based IT software company has the name SIGMA SOFTWARE. Sigma Software offers its clients IT services and solutions in Lucknow for the development of applications, products, mobile applications, website designing, maintenance and support, graphics design, web hosting, custom software development and testing, and SEO.
Founder: Pradeep Tiwari
Founded in: 2010
Website: https://sigmasoftwares.org
Address: Head Office Address: 2/517, Vijay Khand, Gomti Nagar, Lucknow (U.P)- 226010
Smart Skyview Solution
Skyview is an evolving organization that offers technology solutions for all of your business's needs and issues. They offer their clients industry-standard, cutting-edge solutions in an effort to help them succeed in their operations.
Founder: Mohd Zubair
Founded in: 2020
Website: https://skyviewads.com
Address: 529, Hans Bhakti Dham, 39, Kamla Nehru Nagar, Khurram Nagar, Lucknow, Uttar Pradesh 226022
Maximum Infotech
Web development, software development, online promotion, digital marketing, and creative designing are all areas where Maxwell Infotech offers top-notch services. They offer a skilled staff of web designers, dedicated developers, and marketers who assist clients in achieving their company objectives.
Founder: Dibyendu Ghosh, Kunwar Afzal Choudhary, and Lokesh Kumar
Founded in: 2020
Website: https://maxwellinfotech.com
Address: Mahanagar, 108, Gole Market, Lucknow, Uttar Pradesh 226010
Quaere
Quaere e Technology aims to build software solutions that concentrate on your time focusing on innovations in business while keeping your business as a priority. It was established in 2007 and has its headquarters in India. With the aid of its 100+ specialists, it has completed more than 2500 projects.
Founder:  Shiv Pal Singh
Founded in:  2007
Website:  https://quaeretech.com/
Address: Pickup Road, Vibhuti Khand, Gomti Nagar, Lucknow, 226010, 7th Floor, Cyber Tower
Also Read - Top Startup Software Companies In Pune
Babysoft
Baby Soft is emerging as the top service provider in web design, web development, e-commerce solutions, mobile App development, web application, and custom software development thanks to an experienced, skilled, and industrious staff. Babysoft offers its customers the best and most effective services possible by making investments in cutting-edge technology and research. It is renowned for always exceeding the expectations of its customers.
Founder: Vibhor Sahu
Founded in:  2008.
Website:   http://www.babysoft.in/
Address: 16, Station Road, Husainganj, Husainganj, Lucknow, 226001
Mind you infotech
Mind you Infotech is a Lucknow-based IT software company. They are the top service provider for IT solutions because of their expertise. In order to develop their clients' businesses and keep up with the latest technologies in the digital world, they assist their clients with digital solutions.
Founder:  Priyanka Devi and Vipin Kushwaha
Founded in:  2019
Website: https://mindyouinfotech.com
Address: Lucknow, Uttar Pradesh, 226016, UGF, 57 Om Sai Plaza, Harihar Nagar, Indira Nagar
Digicoders
Digicoders is a group of young engineers, businesses, and creative employees. They offer a variety of IT services to help your business grow. At Digicoders, providing customers with the best solution is always prioritized over anything else. One of the top IT businesses in Lucknow is Digicoders. Having more than 5 years of experience. To produce the finest results, they streamline their method. They conduct an analysis, design, development, and testing before giving you the project to examine in detail.
Founder:  Gopal Singh and Himanshu Kashyap
Founded in: 2019
Website: https://digicoders.in
Address: 2223 Faizabad Road, behind State Bank of India's Babuganj Branch, next to IT Xing, Lucknow, Uttar Pradesh 226007
Duplex Technologies
Duplex Technologies is a provider of mobile and web solutions with an emphasis on performance, customer-centricity, and design advancements. It is impossible to provide clients with a perfect solution without a skilled, energetic, and passionate employee. The duplex's staff consists of people like that. In order to create, design, and deploy software solutions for its clients, Duplex Technologies creates an ecosystem for the client.
Website:  https://duplextech.com
Address: Lucknow, Uttar Pradesh 226024, 2012 SF-1, 2nd Floor, Adharshila Complex, Kursi Rd, Shekhupura, Aliganj
Brain Coding
Web development is a service offered by Coding Brains. It focuses on providing services for software development, web development, and mobile app development. The business was established in 2010 and has its headquarters located in Lucknow.
Founder: Amol Raj Pandey
Founded in: 2010
Website:  https://www.codingbrains.com
Address: Virat Khand-1, 2010 2/1, Gomti Nagar, Lucknow, Uttar Pradesh 226010
Also Read - Startup Companies in Bangalore for Freshers
SynchSoftHQ
They have been an innovative and trustworthy software engineering partner for top-tier brands since 2014. They are someone who can support you while you build your brand by offering the effective software solutions you require. They have aided brands by taking their ideas and turning them into top-notch products that have been published in Vogue, Cosmopolitan, Entrepreneur, Founder, and Buzzfeed.
Founder: Adarsh Srivastava
Founded in: 2014
Website: https://synchsofthq.com
Address: Second Floor, Office Square, Vibhuti Khand, Gomti Nagar, Lucknow, Uttar Pradesh 226010
XP Sparx
A wonderful web design and the best software company in Lucknow called Spark Pulse provides innovative and creative solutions to small and large businesses.
Founder: Dan Lowenthal
Founded in: 1996
Website:  https://sparxxp.com
Address: P7/595 Major Pushpender Nagar, Near B.R.A University, Lucknow (226025)
Webkul
Webkul has helped develop extensions for a number of open-source eCommerce platforms. They are also one of the few organizations that is 100% self-funded. To fulfill the demands or expectations of our customers, Webkul works with a variety of technologies. React Native, Symfony, Laravel, AMP, GitLab, Swift, Flutter development, and many more are a few of the technologies.
Founder: Vipin Sahu
Founded in: 2019
Website: https://webkul.com
Address: Prithvi Ratan Heights, 4th floor, Plot No. 4, 3 Vijayant Khand, Gomti Nagar Lucknow, U.P
Yash Technologies
Yash Technologies utilizes cutting-edge, business-centric frameworks and solutions to assist clients in achieving unheard-of performance levels and revenue growth at reduced costs. YASH, one of the top-performing IT services companies in the world, has added strategic "tuck-in" acquisitions to its strong organic development.
Founder: Manoj Baheti
Founded in: 1996
Website: https://www.yash.com
Address: 533/69 Softpro Tower Opp: New Hanuman Temple, Kapoorthala, Aliganj, Kursi Rd, Lucknow, Uttar Pradesh 226006
Also Read - Top Software Development Companies in Jaipur
Tridhya Tech
A full-service software company in Lucknow, Tridhya Tech specializes in the creation of mobile, web, and eCommerce applications. They support technological empowerment and offer end-to-end tech solutions for creating a strong online presence. They have everything you need, whether you're seeking a top-notch specialist with specific industry knowledge or a ground-breaking group of tech experts. Due to their passion for what they do, they have a pool of IT professionals on staff who are computer-aware and passionate about bringing about change.
Founder: Sam Maniar
Founded in: 2004
Website: https://www.tridhyatech.com/
Address: 23, Prakash Lok Colony, B Block, Indira Nagar, Lucknow, Uttar Pradesh 226016
Signature Software
They are capable of providing a wide range of services, including domain registration and hosting, graphic design for the web and print, brand development, website design and maintenance, customized software development, CRM and ERP development and implementation, e-commerce solutions, attendance & payroll management systems, biometric & access control systems, mobile app development, desktop applications development, search engine optimization, and social media optimization.
Founder: Raghvendra Singh, Vishal Ramesh Singh, Satyam Trivedi and Mohammad Danish.
Founded in: 2021
Website: https://signaturesoftware.in
Address: Sikka House D 2/50, 51, 52 Vibhuti Khand, Gomti Nagar Lucknow – 226010
Stalwartsoft
Your favorite mobile application developer, Stalwartsoft, specializes in the disciplines of digital marketing, mobile application development, web application development, and software development. Your applications are created, maintained, and modernized by them. They are committed to providing you with world-class software services that will support both your and our simultaneous growth. Stalwartsoft is a customer-focused organization that always believes in and offers high-quality services to its clients, enabling them to simply transition existing businesses into digital ones.
Founder: Pankaj Kumar
Founded in: 2019
Website: https://stalwartsoft.com
Address: E-337, Eldeco Udhyan, Eldeco Udan, Lucknow - 226012
Ameego Labs Pvt Ltd 17.
Along with a full range of services including web development, mobile app development, mobile and web UI UX design, SEO & digital marketing, graphics, logo design, and branding, they provide IT-enabled business solutions.
Founder: Rizwanul Haque, Zakaul Haque
Founded in: 2017
Website: https://ameegolabs.com
Address: 3/38, Vinamra Khand, Gomti Nagar, Lucknow, Uttar Pradesh 226028
Paytech It Services Pvt Ltd
A web solution and software development company, Paytech It Services is the best software development company in Lucknow, Uttar Pradesh. The organization is committed to offering expert services, such as bulk SMS services, website development, website design, and domain & web hosting. The development of Android apps, marketing services, API service providers, API banking service providers, project management, it-enabled services, CMS implementation, content management, portals, software modification, SEO analysis, etc.
Founder: Ishhaque Nabi and Ahmad Raza.
Founded in: 2021
Website: http://paytechitservices.digitalintouch.in
Address: Fast Gate, Chowk, opposite Ghanta Ghar, Husainabad, Lucknow, Uttar Pradesh 226003
HCL
HCL has three divisions: HCL Healthcare, HCL Technologies, and HCL Infosystems. By offering world-class products, services, and business solutions, the IT industry, with its years of ongoing work, sets high business standards. It is one of the firms with a good reputation among IT applicants because of its employee-centric strategy. Its flexible work schedule offers the greatest income in the sector, excellent learning possibilities, and a superb work-life balance.
Founder: Shiv Nadar
Founded in: 1991
Website: https://www.hcltech.com
Address: SEZ Unit I, Ground and First floor, IT Block No. 3, Village Kanjehara & Mastemau, Chack Gajaria Farms, Sultanpur Road, Lucknow, UP 226 002
CEDCOSS
Another one of the top IT companies in Lucknow founded in 2010 is CEDCOSS, which employs devoted professionals to provide best-in-class IT solution services. From the initial stages of product creation to post-sale servicing, it offers its customers rigorously high-quality services. The finest thing about CEDCOSS is that they use the most recent technologies available and offer cutting-edge services.
Founder: Abhishek Jaiswal and Mr Himanshu Rauthan
Founded in: 2010
Website: https://cedcoss.com
Address: 3/460, Vishwas Khand Rd, Opposite Nehru Enclave, Vishwas Khand, Gomti Nagar, Lucknow
Live Skill Tech
Live Skill Tech is a reputable custom web and mobile app development company in Lucknow that also provides services in the fields of blockchain, cryptocurrency exchange, online streaming platforms, and enterprise mobility solutions. Its key goals are to provide high-quality services, satisfy clients, and pay attention to their demands. They are meeting exceptional standards to satisfy consumer needs with the aid of their technology professionals.
Founder: Shivank Srivastava
Founded in: 2017
Website: https://liveskilltech.com/
Address:367&369A, Moti Nagar, Lucknow - 226004
Coterie Software Solution
One of the leading IT companies in Lucknow is Coterie Software Solution. They have a team of specialists for each service, including digital marketing, mobile app development, software development, and web development. If you wish to pursue an IT career, this organization might be a good option for you.
Founder: Radheyshyam Prajapati and Kamalesh Yadava.
Founded in: 2019
Website: https://www.coteriesoft.com
Address: 2nd floor, Karamat Market, Nishatganj, Lucknow, Uttar Pradesh, India Pin Code - 226006
IPH Technologies
IPH Technologies wants to get your company online and help it develop into a brand over time. In this effort, they create cutting-edge mobile and web applications with advanced features that provide a service for your clients and deliver bottom-line profitability.
Founder: Lekha Mishra
Founded in: 2013
Website: https://iphtechnologies.com
Address: 2nd Floor, JB Emperor Square, LDA Colony, Alambagh, LUCKNOW- UP- 226012, Lucknow, Uttar Pradesh - 226012
Fays Technology
They are one of the top IT companies in Lucknow that primarily offers bespoke and on-demand software solutions. They constantly grow their company and acquire new knowledge.
Founded in: 2018
Website: https://faystech.com
Address: No. 401, Fourth Floor, Ansal City Centre Behind Tulsi Cinema, Parivartan Chowk, Hazratganj, Lucknow, Uttar Pradesh 226001
Srchout
Srchout was established in 2018, and since then, they have quickly become experts in software development, online applications, software consulting, and the outsourcing of IT staff. They make sure that the client's business success
Founder: Sudhanshu Ranjan
Founded in: 2018
Website: https://srchoutsoftware.com
Address: S/O Deepak Garg, Sudhaa Niwas, 2 Mai Ji Ke Bagiya, Bara Chand Ganj, Mahanagar, Lucknow - 226006 (Near RLB School)
Srmak Technological System Pvt. Ltd.
An information technology business in Lucknow, Srmak Technological System Pvt. Ltd. offers specialized software and internet solutions. They provide a range of software and web development services. The designs created by one of the IT companies in Lucknow are elegant, striking, and classic. Their development team is skilled in providing prompt and effective solutions.
Founder: Krishna Kumar Singh and Aditya Singh.
Founded in: 2018
Website: https://srmakts.com
Address: 1/93 Sai Kripa Building, Vikalp Khand, Gomti Nagar, Lucknow - 226010 (Malhar Road)
Webcreatrz Technologies
Leading blockchain development firm Webcreatrz Technologies is dedicated to revolutionizing businesses through cutting-edge blockchain solutions. They assist organizations in using the potential of blockchain technology to promote efficiency, security, and transparency across a range of industries thanks to their knowledge and passion for innovation.
Founder: Neeraj Maurya
Website:https://webcreatrz.co.in
Address: 403, 3rd Floor Chandralok Tower, Kapoorthala, Kapoorthala Commercial Complex Lucknow, Uttar Pradesh 226020
Edoro Technologies
With a team of knowledgeable and seasoned IT professionals, Edoro Technologies is a recently created one of the top IT companies in Lucknow for freshers with headquarters in Lucknow. The company was founded in early 2015. They are committed to delivering high-quality, reasonably priced services to clients operating small to enterprise-level enterprises all over the world. They specialize in web development and web design, and they also offer client-server solutions, desktop application development, mobile solutions, testing, and quality assurance. They provide web solutions that change to meet your company's evolving demands.
Founder: Naim Uddeen
Founded in: 2015
Website: http://www.edorotechnologies.com
Address: 1057, Sector B Rd, Mahanagar, Lucknow, Uttar Pradesh 226006
STPL
A CMMI Level 3 Appraised and ISO 9001:2015 certified offshore software development firm, STPL was founded in 2004 and serves a diverse clientele worldwide with creative, cost-effective solutions for a variety of industrial verticals.
Founder: Navin Agarwal
Founded in: 2004
Website: https://www.stpl.biz/
Address: B - 48, Sector C, Sector CS, Aliganj, Lucknow, Uttar Pradesh 226020
Conclusion
Lucknow is among other cities in India showing the highest rate of growth. Compared to previous years, there are a lot more IT companies opening offices and looking for possibilities to hire qualified personnel.
Hopefully, after reading the above checklist, you can now decide which organization is ideal for you. Just keep in mind to conduct thorough research before entering any organization.
FAQ
Which IT companies are in Lucknow?
There are up to 500 top companies in Lucknow that provide software and app development services at reasonable prices. But if you want to know the top-rated IT companies in Lucknow then this above list of IT companies in Lucknow can help you to choose the right company. However, HCL, Sigma software, BabySoft, and Digicoders are the best.
Which company is best for freshers?
Though all are the best software companies, Quaere, and Mind Your Infotech are the best IT companies in Lucknow for freshers that can help freshers polish their software development knowledge and grow in their field.