Top Software Development Companies in Jaipur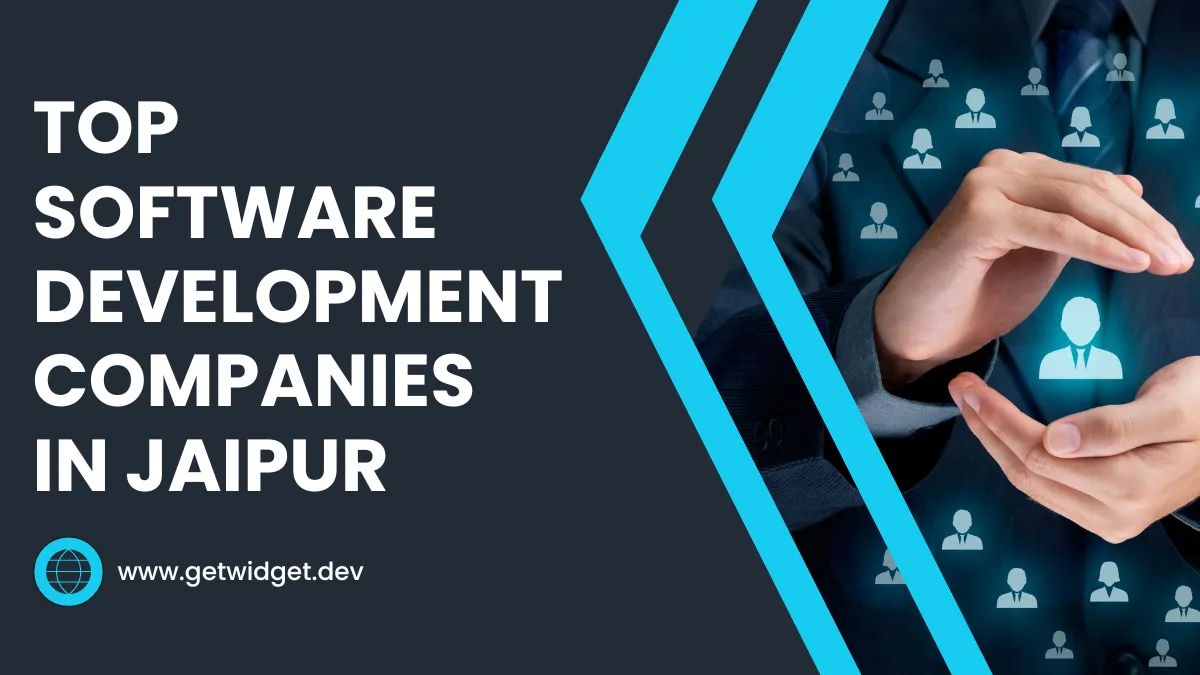 Jaipur, a town with a historical base and famous for its distinguished monuments and forts, is now in the picture for turning into IT-Hub, Jaipur. The reputed engineering colleges at this location have opened ways manifold for prominent software companies in Jaipur to establish their businesses.
Aspirants vouch for better job prospects and flourishing careers, and in the tech era, the emergence of Indian and multinational software development companies in India is huge. Jaipur was an unexploited region, but within a short span, the best software company in Jaipur moved in, creating huge opportunities for job aspirants, driving growth, and rapid decline in poverty with an improved lifestyle. The credit goes to the establishment of a top software development company that assisted Jaipur in evolving to the next level.
Software is indispensable in the current scenario of digitization where life revolves around smart gadgets and the growth and smooth functioning of any business sector is dependent upon upgraded software. Entrepreneurs and organizations favour automation and the answer lies with the best leading software developers. Jaipur saw a significant upsurge in the list of the best software company in Jaipur to assist organizations to scale their business.
High Connectivity
As per recent data, Jaipur stands second to China with respect to connectivity. The Reliance Jio consumer-friendly schemes with low-cost smartphones and laptops connected millions of people including rural Jaipur due to heavy penetration of high-speed connectivity. This enabled the establishment of MNC and Startup software companies in Jaipur for freshers.
Surge in Start-ups
The sudden surge in start-ups founded by the youth of India ranks the youngest entrepreneurs around the globe. This surge facilitated inland funding and collaborations with foreign counterparts with the implementation of fruitful strategies for prosperous business models starting from scratch. Jaipur has seen successful entrepreneurs and hard-core investors paving the way for successful business acceleration.
New Spot for IT Hub
Jaipur has sprawled as a new spot for IT Hub after Bangalore and Pune in a few years. The reason is the accumulation of the best engineering talents that led software companies to expand their worth in Jaipur, and more tech giants are expected to arrive shortly. Global start-ups are looking for opportunities to target the consumer base of India and domestic start-ups open for global takeover. These would lead to acquisitions and mergers, opening doors for new opportunities and spike in business revenues.
Improvement in Ecosystem
Jaipur, famous for boasting arts and architecture, lacked infrastructure and social and cultural restraints kept the city at a low profile. Improvement in the ecosystem led to the growth of top-notch IT companies. The laborious and active youth helped to soar the spirit high of the entrepreneurs to invest profusely and excel in business to new heights in Jaipur.
Here is the list of the software development companies in Jaipur
Infosys
Infosys is a global leader in next-generation digital services and consulting, creating opportunities for people, business houses, and communities. Infosys is spread in 56 countries taking care of Three Lacs employees globally. The innovation ecosystem upgrades the skills of the employees with always-on learning by the transfer of digital skills, expertise, and ideas to help the clients with their expertise for digital transformation empowered by Cloud and AI. Infosys has become a leading software company in Jaipur Rajasthan.
Website: https://www.infosys.com/
Address: Plot No. IT-A-001-A-1 Mahindra World City SEZ Village Kalwara Tehsil Sanganer Dist. Jaipur 302 037
Orion Infosolutions
Orion Infosolutions is a certified web & mobile app development company, covering the USA, Canada, and Australia with headquarters in India—a team of highly skilled & experienced dedicated developer strength 50+. Orion Infosolutions is an Information Technology consulting and solution-providing organization for the collaboration of next-generation businesses across the globe.
Website: https://www.orioninfosolutions.com/
Mail Id: [email protected]
Address: C-48, Nand Vihar Colony, Nemi Nagar Extension, Block A, Vaishali Nagar, Jaipur 302021
Global IT APP
They are competent in web development, mobile app development, web design, and digital marketing agency provider of services around the globe. It believes in the timely execution of services to esteemed clients. The areas of expertise are Android, iPhone, PHP, Laravel, WordPress, Angular, CodeIgniter, CakePHP, and Responsive Web Design. We have been serving since 2011, and our skilled team believes in delivering quality services. Global IT APP software training companies in Jaipur believe in inculcating a driving force in their employees to compete with the competitors.
Website: https://www.globalitapp.com/
Mail Id: [email protected]
Address: 101-B, Arpit Nagar, Vaishali Nagar, Jaipur-302015,
Dev Technosys LLC
Dev Technosys LLC has established itself as a large and powerful company in the field of digital marketing. Dev Technosys LLC software testing companies in Jaipur determine, innovate and deliver technology-enabled business solutions providing a package of services collaborating with leading technology service providers. The area of specialization – Digital Marketing and web-based applications. A team of dedicated developers believes in delivering the best solutions and user-friendly solutions and after-service assistance. The foundation of Dev Technosys LLC was laid in 2010, and since then, it is growing rapidly with its company presence in selected countries.
Website: https://devtechnosys.com/
Mail Id: [email protected]
Address: B-11-12, Lal Bahadur Nagar, Sector 9 Malviya Nagar, Jaipur, 302017
Also Read - Top Startup Software Companies In Pune
Genpact
Genpact came into existence in 1997, and today full-fledged settled as the best software development company in Jaipur, with headquarters based in New York, a leading global professional services organization. We shape clients' businesses by redesigning and conceptualizing, our huge client base globally, and many organizations of our business partners are of Global Fortune 500. We deliver innovative technology by applying our Data-Tech-AI services to design, build, and transform their businesses. We have a presence in 30 countries and our team consists of passionate 115,000+, who believe in accepting challenges and delivering the best, creating a lasting impression on the clients.
Website: https://www.genpact.com/
Mail Id: [email protected]
Address: Jawaharlal Nehru Marg, Malviya Nagar, Near Venkateshwara Temple, Jaipur, 302017
Dotsquares Technologies
Dotsquares Technologies specialist in website development and design, mobile apps development, and digital outsourcing agency based in East Sussex, with headquarters in Melbourne (near Brighton and Hove), United Kingdom. The presence of Dotsquares Technologies is in the USA, Australia, and India. We believe in a committed relationship with our clients offering offshore outsourcing services at reduced costs, to help to expand business and IT performance. Quality of service is not compromised offshore at phenomenally decreasing rates. Dotsquares established in 2002, is fully committed to offering IT services and solutions to business houses. Dotsquares Technologies is the best software development company in Jaipur Rajasthan for training in-house employees as well as new joiners.
Website: https://www.dotsquares.com/
Mail Id: [email protected]
Address: Apparel Park Industrial Area, CP4-228/229, Mahal Rd, Jagatpura, Shri Kishanpura, Jaipur, Rajasthan 302017
System Logic Solution
System Logic Solution incorporated in 2018, specialization in Website Design, Application Development, Custom Software Development, and Digital Marketing, with a prime focus on identifying the real requirements of our clientele base of designing websites and applications. System Logic Solution encourages internet marketing techniques and campaigns from GUI, SEO, and Content, to online networking and management. System Logic Solution will surely be the best choice for software companies in Jaipur for summer training.
Website: https://www.systemlogicsolution.com/
Mail Id: [email protected]
Address: 5/73, Bika Lines, Chitrakoot Colony, Vaishali Nagar, Jaipur, India, Rajasthan
Also Read - Startup Companies in Bangalore for Freshers
GirnarSOFT
GirnarSOFT is, an ISO 9001-certified IT company conceived in the year 2007. The area of specialization is broad ranging from mobile app development, web development, enterprise mobility solutions, and many more. It caters to providing equal services to both leading tech organizations and small-scale business organizations. They are a provider of renowned software and web development services providing the best custom software development services to their clientele base. GirnarSOFT stands against the crowd amongst top IT software companies in Jaipur
Website: https://www.girnarsoft.com/
Mail Id: [email protected]
Address: 21, Girnar, Govind Marg, Moti Dungri Road, Jaipur 302022
Pratham Software
Pratham Software was established in 2000. The areas of expertise are software, product lifecycle management, OPD, BPM, ADM, ISV, Software Testing, and Consulting Services and solutions providers to assist companies of all sizes, create and leverage digital twins to deliver new insights, opportunities, and levels of automation to drive innovation to our organizations.
Website: https://www.thepsi.com/
Mail Id: [email protected]
Address: G1-265-266, RIICO Industrial Area, EPIP, Sitapura, Jaipur 302022
Ascure Technologies
Ascure Technologies' area of specialization development of innovative products to empower the efficiency of business operations. It is proficient in website development, flutter app development, ios app development, android app development, IoT app development, Magento and Shopify development, ui ux design, project management, and PHP development;   believes in prioritizing the best quality products ensuring timely execution and delivery. A highly skilled team of dedicated developers and designers has extensive experience in working across different platforms.
Website: https://ascuretech.com/
Mail Id: [email protected]
Address: Office No. 101 - 104 Okay Plus, F-45, Malviya Nagar, Jaipur
Metacube Software
Metacube Software, a leading software product development services company, has business partnerships with young start-ups and established global players in their innovative errands. The customer footprint of Metacube Software is widely spread across the US, Canada, UK, Europe, and APAC. Perfect organization for the software companies in Jaipur for freshers to gain insight and varied work experience. Metacube is the best software company in Jaipur for internships and training.
Website: https://www.metacube.com/
Mail Id: [email protected]
Address: SP-6, Phase IV, (Software Technology Park), EPIP Sitapura, Jaipur - 302 022, India.
Also Read - Top Software Development Company In Lucknow
A3logics
A3logics designs bespoke software which is believed to be a game changer to create a better world. It believes in delivering excellent projects of different complexities, meeting the challenges of the industry. In existence for 19 years and has eagerly served more than 500 customers with a capacity of 350+ versatile customer-centric tech team.
Website: https://www.a3logics.com/
Mail Id: [email protected]
Address: H1-458-460, Sitapura Industrial Area, Sitapura, Jaipur - 302022
Infoobjects
Infoobjects' approach is flexible, adopting AI solutions designed to meet the needs of the serving enterprises. Create network Solutions addressing complex challenges like providing existing investments and embracing emerging technologies within a certain period. Started in 2005 with headquarters in the USA, it deals with Big Data, data engineering, data analytics, and many more cutting-edge technologies. Infoobjects welcomes raw job aspirants and empowers them with versatility, a better software testing company in Jaipur.
Website: https://www.infoobjects.com/
Mail Id: [email protected]
Address: E-5, Patrika Building, Jhalana Institutional Area, Jhalana Marg, Jaipur, Rajasthan 302017
Systweak software
Systweak software IT company specialist in developing software and customized solutions serving global customers and clients. Systweak was established in 1999 with the objective to provide seamless solutions to the system users of PC, Android, iOS, and Macintosh. The other areas of expertise are in different domains such as media, data organization, and Turnkey Web. It believes in delivering economical solutions to its clientele base and customers for a long-term association.
Website: https://www.systweak.com/
Mail Id: [email protected]
Address: E-73 Chitranjan Marg, C-Scheme, Jaipur, Rajasthan 302003
Phontinent Technologies
Phontinent Technologies specializes in creating apps and application development at Phontinent is world-class. The realms of operations include website development and design, mobile app development, Content Management systems, social media app development, E-commerce development, and Digital Marketing. Conceptualized in 2017, with a vision to deliver integrity, transparency, and timely execution and delivery assisting customers.
Website: https://www.phontinent.com/
Mail Id: [email protected]
Address: 40, Airport Rd, Shiv Colony, Sanganer, Thana, Jaipur, Rajasthan 302011
RNS IT Solutions
RNS IT Solutions believes in making IT & IT-enabled services economical and easily accessible to all segments of the population. RNS IT Solutions provider of Cyber Security, Digital Marketing, Website Development, and Mobile App Development in Android, React Native, and Node Js. It caters to all sizes of business houses and customers and treats them alike. The focus is on IT, Gaming, and Education, and it strives to compete in the market with specialized products and services.
Website: https://globalrns.com/
Mail Id: [email protected]
Address: 101-201-301, Chanda Tower, Girnar Colony, Gandhi Path Road, Vaishali Nagar, Jaipur - 302021
Nagarro Software Pvt Ltd
Nagarro Software Pvt Ltd is a leading consulting and software training company in Jaipur with headquarters in Gurugram, India established in 1996 to provide high-class software solutions to agencies worldwide. Nagarro is globally present in 25 countries including the United States, Canada, Germany, Sweden, and Australia. The talented and committed workforce of 7,500 plus employees delivers innovative solutions to their customers, in the areas of expertise - cloud computing, artificial intelligence, machine learning, Android, blockchain, and DevOps.
Website: https://www.nagarro.com/en
Mail Id: [email protected]
Address: Plot ITA012 - IT/ITES Zone, SEZ Mahindra World City Jaipur  Rajasthan India 302037
Variablesoft
Variablesoft, a big IT company founded in 2013, is the best software development company in Jaipur, with information technology, software solutions, and website development in Jaipur India under one roof. Variablesoft CRM integrates with any business system or application easily. Variablesoft is apt for software companies for internships in Jaipur.
Website: https://variablesoft.com/
Mail Id: [email protected]
Address: F-26, Gautam Marg, Sector 6, Vaishali Nagar, Jaipur, Rajasthan 302021
Conclusion
Undoubtedly, the demand for Custom Software development companies in Jaipur is growing continuously. The reason behind their continuous growth is almost every business now wants to go digital. But while choosing the top software development company, you may find some difficulties as there is a big list of software development companies in Jaipur. So, we have listed the top it companies in Jaipur, after analyzing them from multiple points: their Software quality, dedicated developers' experience, their previous work, and of course reviews shared by their previous clients. So to get the optimum result for the best custom software development company, choose one of them and grow your business effectively.
FAQ
Which software company is best for internship?
Though there are so many MNC and startup software companies for internships in Jaipur. But out of these Infosys, Genpact, Orion Infosolutions, and Metacube among others are some well-known as the best software companies.
Which companies are the best software companies in Jaipur for Java?
In a Java internship, you will get practical experience in software development, a deeper understanding of the programming language Java and advanced Java, exposure to real-world projects, networking opportunities within the industry, and a chance to learn from professional experts.
I am a fresher one? Can I apply for a specific role in software companies in Jaipur?
Of course, Freshers are also welcomed by software companies for multiple roles. There are so many MNC and startup software companies for freshers in Jaipur that are providing various roles to freshers such as QA, software development, software testing, technical support, BA, and more.
What technologies do these companies typically work with?
These top IT companies in Jaipur work with a wide range of technologies, including but not limited to Java, Python, .NET, JavaScript, Angular, React, Node.js, PHP, Cloud platforms (AWS, Azure), databases (SQL, NoSQL), mobile app development in (iOS, Android, Hybrid), and more.